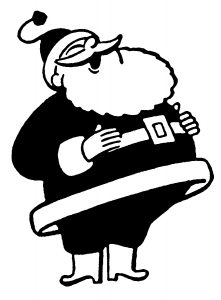 The Santa Float will again make its way through Waterloo, bringing gifts and holiday cheer to all! The City of Waterloo, Waterloo Chamber of Commerce and Sister Cities of Porta Loo, with the help of many continued donations from individuals, businesses and organizations, have come together to make sure this tradition, started by Harry Wolf and the Waterloo German Band, will continue.
Check out the schedule below to find out when Santa and his elves will be in each neighborhood.
The float heads out at 5pm each evening and will be led by a City of Waterloo vehicle with red and green flashing lights and a loudspeaker, so you know Santa is close by. Santa has a treat for all of the children who come out to see him!
New this year, each night there will also be four golden tickets hidden amongst the treats. If you are lucky enough to find one, bring it to City Hall at 9am Christmas Eve to receive a surprise from Santa! Only children ages 13 and under are eligible to win prizes.
Also new this year, on the second night of each route, the route will be driven in reverse. This allows for younger children that may live at the end of their route a chance to visit the Santa Float as well, as they will be at the beginning on the second night. Below is the color-coded map and the turn by turn directions for each route.