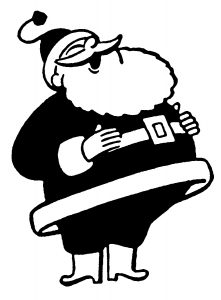 The Santa Float will again make its way through Waterloo on December 14-23, bringing gifts and holiday cheer to all! The City of Waterloo, Waterloo Chamber of Commerce and Sister Cities of Porta Loo, with the help of many continued donations from individuals, businesses and organizations, have come together to make sure this beloved tradition, which was started by Harry Wolf and the Waterloo German Band, will continue.
Golden tickets are back! – – There will be three hidden each night! If you are lucky enough to find one, bring it to City Hall at 9am on Christmas Eve morning to pick a gift from Santa.
We have a SANTA TRACKER! No more guessing where Santa may be on his route. Simply click the link and you will be able to see where Santa is, as well as where he has already been along the route.
Click Here
to access the route schedule, turn-by-turn directions of the routes and the SANTA TRACKER.