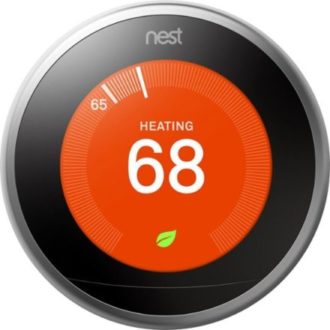 Thanks to grant funding from our electricity supplier, the Illinois Municipal Electric Agency, the City of Waterloo is offering a $50 rebate for residential utility customers when they buy and install a NEST smart thermostat
What is the NEST? It's a Wi-Fi connected thermostat that learns the daily pattern of your air conditioning or heat settings. It also lets you manage those settings from a computer or smart phone. It will show you how much energy you use, and how to use less.
Visit the NEST website to learn more. Applications can be mailed to the attention of Kelli Pace at City Hall: 100 West Fourth Street, Waterloo, IL 62298 or they may be dropped of at City Hall. For more information about the rebate program, contact Kelli at 618.939.8600 ext. 216.
Here's how to participate:
Only the NEST brand thermostat is eligible for this rebate program.
$50 rebate incentive is valid for purchases made on or after 3/01/2019 and will end when funds are expended.
Prior purchases/installations are not eligible.
The rebate is limited to City of Waterloo residential utility customers only.
If a Property Owner wants to apply and have a thermostat installed at a property they rent out, the thermostat rebate credit will go to the Property Owner's utility account.
Multi-family units (owners of apartments, condos and townhomes) are eligible for this incentive.
Customer agrees that by receiving a rebate, he or she agrees to participate in future demand response programs that may be developed.
Applicants will send in rebate application, a dated copy of the purchase receipt, and the original UPC Code from package (a copy will not be acceptable).
All rebate payments will be applied directly to the purchaser of the NEST thermostat Utility Billing account in the form of a $50 credit.