Coronavirus (COVID-19) Updates
If you have a medical emergency, and you have been diagnosed with COVID-19 or are being evaluated for the virus, call 911.  Notify the dispatcher of your medical emergency first, and tell them that you have COVID-19 or are being evaluated for the virus. If possible, put on a face mask before medical personnel arrive.
If you do not have a medical emergency, and you suspect you could have been exposed and/or infected by the COVID-19 virus, call the IDPH 24-hour hotline at 1-800-889-3931 for further guidance.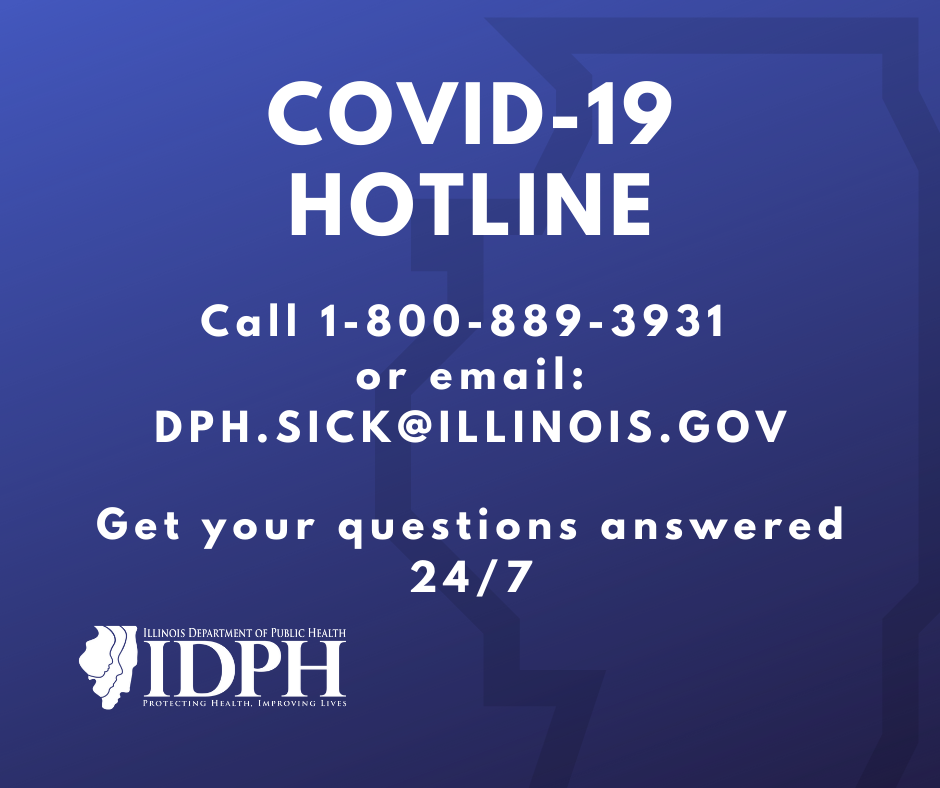 LATEST NEWS
February 4, 2021
The Illinois Department of Public Health (IDPH) announced Region 4 (Bond, Clinton, Madison, Monroe, Randolph, St. Clair, Washington) is moving to Phase 4 of the Restore Illinois Plan effective immediately.

January 22, 2021
IDPH has announced that our COVID region (Region 4: Madison, St Clair, Monroe, Randolph, Clinton, and Bond counties) will be moving from Tier 3 to Tier 2 resurgence mitigation.
Allowances for Tier 2 do not include indoor dining for either restaurants or bars, but does allow for limited group fitness classes to resume and for cultural sites like museums to open.
Allowable activities by Tiers can be found on pages 3 and 4 of the Illinois Resurgence Mitigation Plan.
November 20, 2021
Tier 3 enhanced mitigations go into effect for the entire state.
October 28, 2020
Tier 1 enhanced mitigations become effective for Region 4 (includes Monroe County) due to an average positivity rate above the 8% threshold.
LOCAL RESOURCES
STATE RESOURCES
DEPARTMENT OF COMMERCE AND ECONOMIC OPPORTUNITY
FEDERAL RESOURCES
CITY OF WATERLOO STATUS
City Operations
City Hall is currently open to the public until further notice. We encourage the public to use the payment drop boxes by the main entrance and in the parking lot of City Hall. You may also pay your bill online or sign up for direct payment. If you need something other than bill payment, please call City Hall at 618-939-8600 and we will assist you. Thank you for your cooperation in our efforts to keep our employees and our community safe.
Trash Service
Reliable Sanitation will be operating business as usual. Mondays will remain trash pick-up and Thursdays recycle pick-up.
Questions
We understand the concern and uncertainty surrounding the Coronavirus (COVID-19), and we thank you for your patience and cooperation as we get through this difficult time together.
If you have any questions, please call us at 618-939-8600.
BREAK THE GERM CYCLE

You play an important role in the stopping the spread of the coronavirus (COVID-19)
Stay Calm
Stay home when you are sick, except to get medical care.
The Best way to prevent illness is to avoid being exposed to the virus.
Avoid Close Contact
Social Distancing (6 feet between one another)
Wash your hands often

use soap and water for at least 20 seconds.
If soap and water is not available, use a hand sanitizer that contains at least 60% alcohol.
Avoid touching your eyes, nose and mouth.
Clean and disinfect frequently touched services.
if you feel sick do not go to the Emergency Room, contact your healthcare provider.
Remember we still have seasonal flu and allergy season is about to begin.
There is no need for anybody to hoard essential supplies.
Early information about COVID-19 suggests that older adults and people with serious chronic medical conditions like heart disease, diabetes, lung disease and weakened immune systems (such as cancer patients and organ transplant recipients) are at higher risk for severe illness and should take extra precautions.