Waterloo is a prosperous community known for its friendly demeanor and its historic German ancestry. Located thirty minutes from St. Louis, Waterloo provides our residents with the convenience of a city while maintaining the comforts of a small town.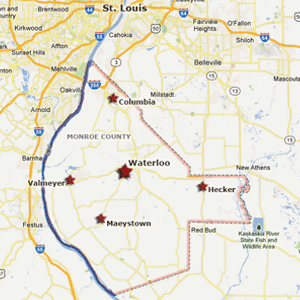 Located in the heart of Monroe County and host of the County Seat, Waterloo is accessed by Illinois Route 3 and Illinois Route 156 which intersect within its bounds. It is located 25 miles from St. Louis, Missouri and the Interstate I-255 is 10 miles from Waterloo.
The City of Waterloo dates back to the 1800's when the town charter was officially granted after an influx of German setters made Waterloo their home. Today, in the heart of downtown and in the heart of the residents, German heritage is still prevalent. To celebrate our heritage and our ongoing relationship with our German sister city a much anticipated annual parade and festival is held for all the community to enjoy.
While we strive to preserve our historical heritage, Waterloo is a place that embraces new ideas while providing a safe and welcoming atmosphere where people can live, work, and raise a family. The city is committed to providing quality services and an unrivaled quality of life for their residents. The mayor and aldermen work cooperatively with city administration, local organizations, and residents to set goals and to ensure that the best service possible is being delivered to our citizens. The people of Waterloo, our business community, and the city government are shining examples of what can be accomplished with perseverance and a collaborative spirit.
Economic Development

Shawn Kennedy