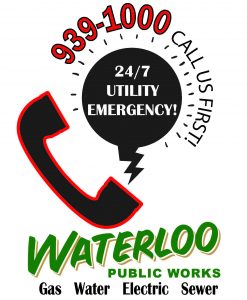 The City of Waterloo maintains all utilities (electric, gas, water and sewer) for our residents. We are committed to doing so as safely as possible, for both our residents and our employees. Please read these safety tips and share the information with your family and friends, so you can be better prepared in case of an emergency.
Never touch a power line or anything touching it. Downed power lines, power outages or other emergencies should be reported to City Hall.
Please call if you are experiencing an electric emergency  939-1000
Natural gas is lighter than air and has no odor. To help you detect the presence of natural gas, a strong odorant that smells like rotten eggs is added. If you smell this odor:
Exit the building/area immediately
Do NOT turn on/off any lights or appliances or motor vehicles.
Do NOT smoke, use matches, lighters, electrical switches or your telephone.
Do NOT hang up the phone, just lay it down or take it with you if it is a cell phone. Call from a nearby building by dialing  939-1000.
Do not re-enter the building until the City has declared it safe.
We urge you to call the first time you smell the odor of natural gas. The City personnel will be happy to assist you. This service is provided free, 7 days a week, 24 hours a day.
Learn to recognize the signs of carbon monoxide poisoning: headaches, dizziness, nausea, confusion, weakness, vision or hearing impairment and drowsiness. If you notice these symptoms and suspect that carbon monoxide is the cause, you should:
Get some fresh air immediately
Contact the Waterloo Fire Department or your local appliance repair center
Seek medical help
Avoid carbon monoxide poisoning.
Have your appliances and furnace serviced in accordance with the manufacturer recommendations
Install a carbon monoxide detector